I'm excited to be a part of the Colorado Craft Company – Kris Lauren Meets Big & Bold Reveal for August 2022!  You should have arrived here from Adam Karle's, if not, start at the Colorado Craft Company Blog.
Leave a comment on all participating designer posts for a chance to win!  Each designer below will be doing a GIVEAWAY of one stamp set of your choice. If you leave a comment at each designers blog or Instagram post that would be 29 chances to win! Commenting will close on August 18th at midnight mountain time.  They will also be giving away a COMPLETE BUNDLE to ONE winner who uses affiliate links. Every purchase using an affiliate link goes into the drawing, so fun, right?! More details on the Colorado Craft Company blog!
Today I'm featuring the adorable Honey Jar set:
I have a TON of patterned paper so I decided to incorporate a couple panels in my design. Typically my style is clean and simple but I thought that the patterns would make the images pop.
All the images have been stamped in black and colored with copic markers. I added some black embroidery thread thread to the honey jar.
The sentiment has been heat embossed in white on black cardstock.
Next up is Bibi Cameron! For the full listing, please scroll down to the bottom of this post.
Thanks for stopping by today.
[Due to excessive spam, comment moderation is on]
Affiliate links at no extra cost to you: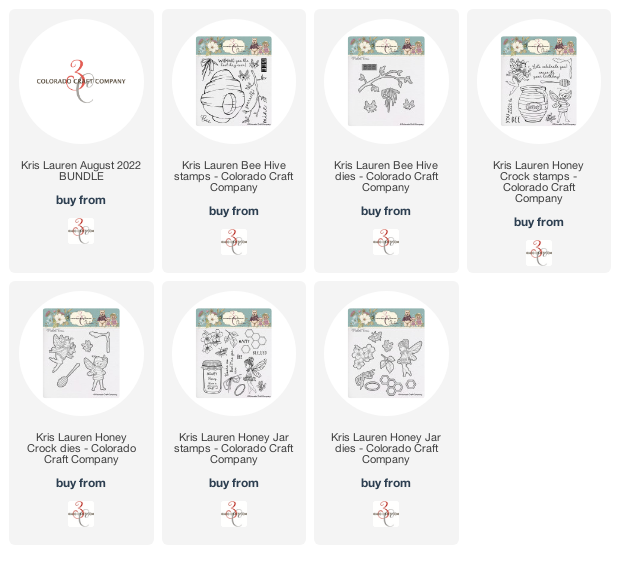 Here's the complete hop listing: