If you follow me on FB or IG, you may have seen the start of a mass production:
Years ago when I first started making holiday cards to send out, I'd make them ALL the same….ALL. The thought of that process makes me cringe. Sheesh, way to make something extremely boring and very much task oriented. Every year I tell myself that I'm going to make holiday cards year round…every year it is a massive fail.
I'm trying to get a head start on the holidays this year and I managed to make 3 of one design…that's my max. It keeps it fun for me without making me dread the process.
cardstock: recollections/110/white, stampin' up crumb cake paper: stampin' up home for christmas stamps: stampin' up snow place (photopolymer) ink: memento tuxedo, fresh ink mojito/pink lemonade + pumpkin, various copics other: stampin' up snow place framelits, quickutz polaroid die
Um yeah, that Stampin' Up Snow Place is ADORABLE…wait for it….It's on SALE. Did you know that Stampin' Up has photopolymer sets? That's what this set is and it has coordinating dies!


The paper is by Stampin' Up too…Home for Christmas….sweet stuff.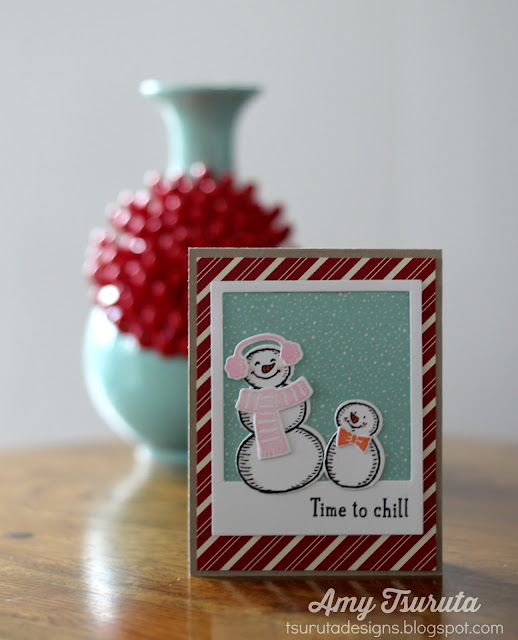 I couldn't decide if I wanted the Momma Snow Person to be dressed up in pink or green so I did both! The 'lil guy had to have an orange bow tie!
I challenged some friends to play along with Freshly Made Sketches…make sure you check out
Kimberly's SWEET card
!
Sigh, happy Friday Eve! I've been trying to get back in the swing of things after NY and getting sick….Darin's Dad arrives this weekend and will be spending several weeks with us while he has his surgery and recovers.