Edited to add the winner: I used random.org to pick the winner:
YaY Beverly! I'll be reaching out to you for your information to pass along to Penny Black. Although it hasn't been posted anywhere except here [for now], the next Woodblock Wednesday is:
Welcome to the March Woodblock Wednesday! I'm so glad that you stopped by! This is a blog feature that I've had off and on for years. I still have many woodblock stamps so I've decided to make this a recurring monthly post + challenge.
This month I'm so happy to welcome Penny Black as my guest and sponsor:
One random project that links up by 5 am pacific Monday, March 27th will win:
Woooooo Hoooooo, another FUN Woodblock Wednesday!
I'd like to introduce Jill Foster, Social Media Director of PennyBlackInc.com who is getting inky with me today! First up is Jill and her gorgeous projects:
A note from Jill:
The featured woodblock stamps are 2304F Seeing your Face and 1436K Hedgehog Joy. I've also included a graphic showing some, not all, of our woodblock stamps featured as "Fan Favorites" in our newest release, Cherished 2023. All of the newest "Fan Favorite" woodblock stamps are listed and linked within this blog post (near the end of the post) if your readers would like that info.
Check out this YouTube over on the PennyBlack channel, make sure you subscribe!
I loved Jill's video! So many tips + techniques because I struggle with crafty decision fatigue all the time!
Make sure you visit their shop and follow + subscribe to all their social media channels:
Here's how I was inspired:
Thank you to Penny Black for sending me this adorable woodblock stamp!
I stamped the image with Versafine Onyx on watercolor paper. It's been colored with Zig Clean Color Brush Markers and their fabulous blender.
The sentiment? It was typed with my vintage Olympia:
I have another project idea brewing that I'll feature in the next couple of weeks! Here are the woodblock stamps that Jill + I used: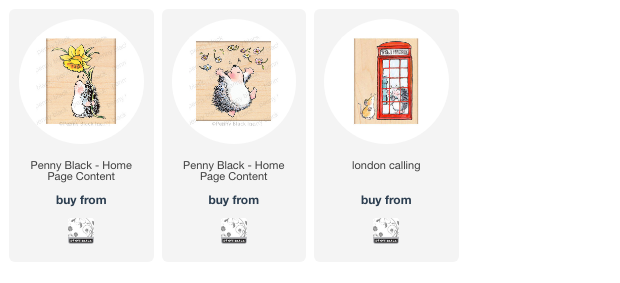 I can't wait to see how you're inspired! Link up your:
newly created project
Use a woodblock stamp as the focal point
Please use the hashtags: #woodblockwednesday #woodblockstamps
linky closes 5 am pacific Monday, March 27th