Edited to add the winner: I used random.org to pick the winner:
YaY Shelly! I'll be reaching out to you for your information to pass along to Bossy Joscie. Although it hasn't been posted anywhere except here [for now], the next Woodblock Wednesday is:
Wednesday, March 22, 2023
I already have a sponsor lined up so get ready with your newly created projects! Remember the fun will start at 5 am pacific on March 22nd.
Welcome to the February Woodblock Wednesday! I'm so glad that you stopped by! This is a blog feature that I've had off and on for years. I still have many woodblock stamps so I've decided to make this a recurring monthly post + challenge.
This month I'm so happy to welcome Bossy Joscie as my guest and sponsor:
One random project that links up by 5 am pacific Monday, February 6th will win:
Woooooo Hoooooo, another FUN Woodblock Wednesday!
I'd like to introduce Joscie, owner of Bossy Joscie who is getting inky with me today! First up is Joscie and her gorgeous project:
How about some quick projects using stamps from Bossy Joscie:
I think that we can all agree that woodmount stamps are gorgeous to display and stamp like a dream:
A big shout out to Joscie for joining me in the fun today! This is when I tell you that I consider myself so fortunate to have been able to have met Joscie back in the day.
Make sure you visit her shop:
Here's how I was inspired:
A bit of background on that stamp. If you're a member of the Coffee Loving Papercrafters FB page. You may have seen this PHOTO my friend Debra Davison posted. I fell in love with that mug but sadly it isn't available anymore. It's funny what inspires a person, right? I changed up the wording a smidge and sent an email to Joscie.
This is the stamp that I'm featuring today:
I can always use cards to send to my Coffee Loving friends!
I have another project idea brewing that I'll feature in the next couple of weeks! Here's the featured stamp along with a couple of my favs from Joscie's shop: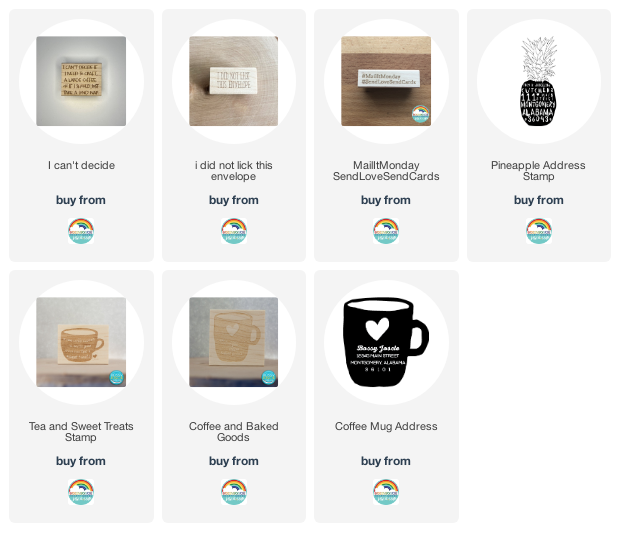 I can't wait to see how you're inspired! Link up your:
newly created project
Use a woodblock stamp as the focal point
Please use the hashtags: #woodblockwednesday #woodblockstamps
linky closes 5 am pacific Monday, February 6th