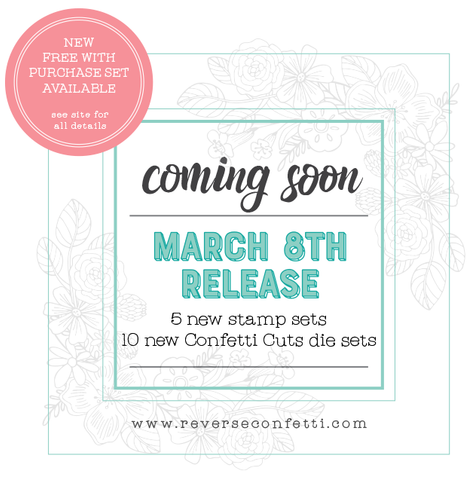 It's day two of the
Reverse Confetti Countdown to Confetti
!
You're going to LOVE all the new products for this month. Please note that new product links will not be active until release day/time.
We're so happy to have the following designers for our March + April 'Fetti Friends:
Friendly Florals
Here's how I was inspired:
For this project I combined:
I'm still in a lime green and lavender color palette mode. Today I threw in a bit of pale pink. I'm excited to have my Mom's Easter card finished. Lately she's been displaying the cards I give her on her TV.
Here's my other card for today:
Growing up I never colored Easter Eggs. Just something we never did. Fast forward when my kids were younger, they colored Easter eggs with their paternal Grandmother and with one of my friends. In the last several years, my girl and I go to that same friend's home and color tons of eggs. It's become a very fun tradition. This card is going to that friend. She'll get a kick out of it. We've known each other for, well, a long time. Since 7th grade, which was forever ago.
I can't wait to hop around and see what my teamies designed! Leave a comment by noon central on March 7th for a chance to win. There will be a $15 Gift Certificate for one blog commenter and also one FB commenter. Make sure you pop over to the
Reverse Confetti Blog
for all the details!