Hello and Welcome back to Woodblock Wednesday. I'm going to be honest, I didn't think I was going to have a project for today. This card took multiple tries but I'm happy with the overall outcome.
Let me introduce you to the stamps:
[retired] Art Definition – Stampers Anonymous – V1-929
Antique Bee and Flowers – Hero Arts – K6224
Greetings from the Northwest – Impress – 5254D
I had a heck of a time with that Stampers Anonymous text design. I tried with both dye ink and distress oxide and settled with the Distress Oxide Pumice Stone on Reverse Confetti Stone cardstock.
I heat embossed the Antique Bee and Flowers image with Hero Arts White Satin Pearl. I absolutely love the look…it kind of all goes with the uneven text stamping.
That stone panel was stamped on both sides so while I was giving it a go on the 'original' side, I didn't realize the backside picked up ink from my work surface…sigh. I then proceeded to use the backside for what ultimately became my front panel. It all goes with the distress look don't you think?
Before you go, guess what the girl and I did on Sunday afternoon: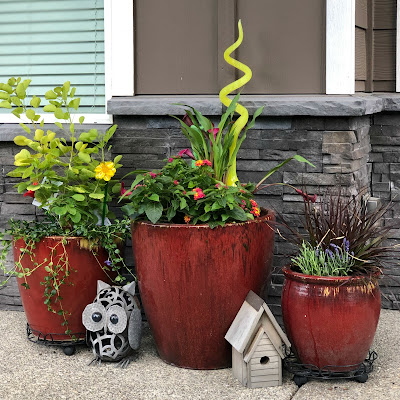 For you green thumbs, it doesn't seem like a big deal and you're probably shaking your head thinking it's late in the season to do this but I'm so happy with how they turned out. Honestly before this, there were dead sticks in there…LOL.
I have yet another plant for the inside of the house too. I couldn't resist the coffee drinking gnome:
Some links might be affiliate at no extra cost to you: