It's my dear friend
Kimberly's
birthday today. She's the one standing in the back…she has the heart the size of a house. She's one of the kindest people I know, she'd give you her last sip of coffee or last bite of donut…I'm hungry, can you tell?
I've known her for several years, there are several of us that get together for crafty days. It's filled with good friends, lots of laughing and yes, crafts. Kimberly is our Make 'n Take Queen….always brings tons of them, isn't she awesome?!
I made this card especially for the Birthday Girl: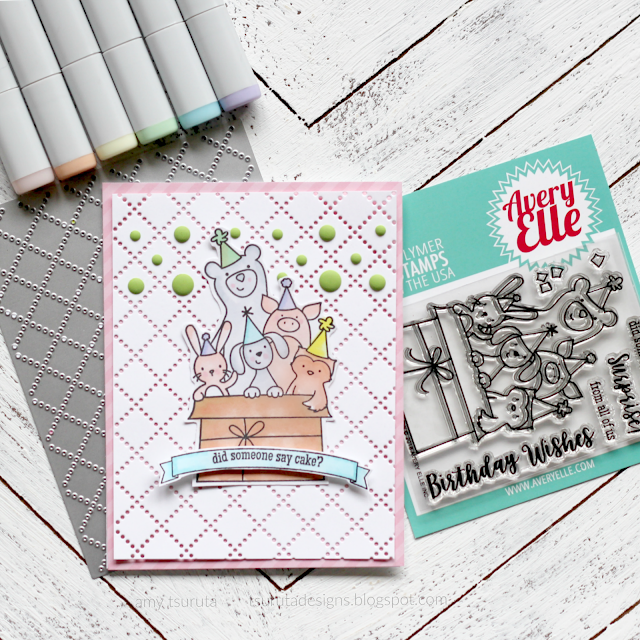 I recently picked up Avery Elle's Critter Crew…isn't it adorable?! Kimberly is a huge Avery Elle fan so this worked out perfectly. The banner is from the Concord & 9th Happy Day set. The pink paper is Lawn Fawn's Really Rainbow.
The coverplate is from Gina Marie Designs…see all those dots, yeah.
TIP: stack your normal diecutting sandwich but do your coverplate design up…layer your paper panel and a folder unscented dryer sheet. Top it off with a cutting pad….This will save you tons of mess because 99% of all those dots stick to the dryer sheet that you'll just need to peel off of the white panel.
I trimmed down the white panel a smidge so you can see the sweet pink paper.
Kimberly, I want to wish the most fabulous birthday and year…YOU my dear, deserve it 💚
Affiliate shopping links at no extra cost to you: